Welcome to Children's Ministries at Central!
What a joy it is to serve together in growing our kiddos up in the Lord! At Central, we VALUE children and strive to come alongside our families to help our kids GROW in their relationship with Jesus. Children's ministry is so much more than babysitting, it is a vital time of building foundations of faith.
We believe our children can live out our vision of "Equipping people to engage our world with the Good News." Our goal is to have the Bible come to life in the hearts and minds of our kids! They are disciples… WORLD CHANGERS!
Heidi Holmes is our Nursery Director and Mary Tollie is our Early Childhood Director. We are blessed to have each of these ladies in leadership. They love God, love children and do an incredible job of coming alongside our little ones as they GROW together. Each of us have an "open door" and would love to connect with your family and assist however we are able to as we are on this journey together.
One of His Kids, Too,
Pastor Julie Stevens, Children's Pastor
Nursery
Sunday: 8:30 AM, 9:45 AM, 11:00 AM
Wednesday: 6:30-8:00 PM

Our ministry is grounded in five truths essential to our faith. We call these our "Five Faith Foundations."
1. God made us.
2. God loves us.
3. God is with us.
4. God wants us to love Him.
5. God wants us to love others.
Nursery is available for infants-2 year olds. The 18 month–2 year old classes offer the opportunity to engage in hands-on activities, celebrate God together, and discover God's Word. Our nurseries are equipped with toys, books, cribs, a nursing room, and loving volunteers.
Children will explore, discover, respond to God, and be blessed by their leaders as they learn about and experience God.
3 Year Olds - KINDERGARTEN
Early Childhood
Sunday: 8:30 AM, 9:45 AM, 11:00 AM
Wednesday: 6:30-8:00 PM
Our ministry is grounded in five truths essential to our faith. We call these our "Five Faith Foundations."
1. God made us.
2. God loves us.
3. God is with us.
4. God wants us to love Him.
5. God wants us to love others.
The structure of our time together is built around both small group and whole group ministry on Sunday morning and Wednesday evening. We embrace the importance of meeting in small, age-based groups (Formation Groups), but also know that even children at this young age benefit greatly from whole group worship. Our Formation Groups range from 5-12 children and are led by consistent volunteers (who help build relationships and invest in our children over the course of one year). During our whole group worship time, children meet in a large group for songs, Scripture memory and story time, and also in smaller groups to allow for hands-on activities related to the lesson. (We understand the importance of movement!)
Whether in Formation Groups or Whole Group Worship, lessons include interactive storytelling activities so that all kinds of learners will be able to be engaged. Lessons are based only on God's Word; we keep the concepts simple and encourage practical application in ways that our youngest worshipers can embrace and understand.
We also enjoy opportunities to engage with age groups outside of Early Childhood, sharing songs and scripture with adult Formation Groups and worship services, and by participating in serving others.
Mom's Fellowship Time: Most months, we host a mom's fellowship time; this is an informal time for children and adults to engage in community together through play and fellowship. All are welcome, whether you attend Central or not!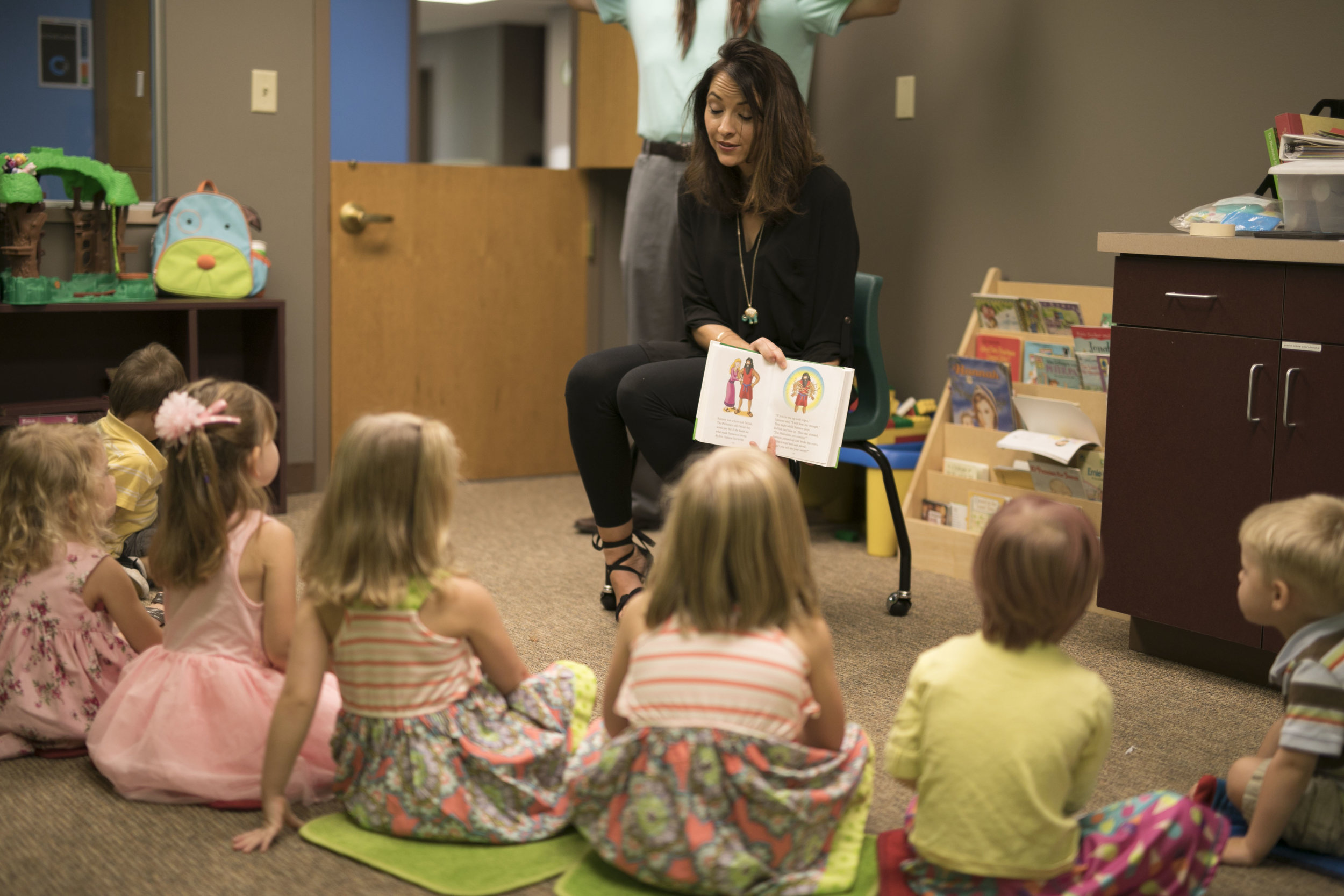 Sunday Morning
Elementary Sunday Morning Formation Groups
Sunday: 9:45 AM
"The Big God Story" is God's ENTIRE story. It incorporates all of history, stretching from Genesis to Revelation and beyond. Early Childhood and Elementary kids understand that they not only play a part in this incredible story, but are also part of a much larger faith community of past, present, and future believers.
Elementary Worship
Sunday: 8:30 and 11:00 AM
God's redemptive plan is revealed through the telling of "The Big God Story." Elementary kids, grades first through fifth, will be given the chance to experience God through exciting activities, meaningful times of response and blessing, and creative storytelling.
Wednesday Evening
DIVE!
Wednesday: 6:30-8:00 pm
Come join the fun as we dive into God's Word together. Bible Quizzing/small group Bible study meets for the first hour and we celebrate how God's been at work the last half hour.
Lead Team
4th and 5th grade students are invited to apply and join Lead Team each Fall. Applications are available from Pastor Julie. Lead Team is a group of students that leads in various ways in Children's Ministry. We hope your 4th or 5th grade student will join the team as we serve the kids of Central together.
5th Grade District Fall Retreat
Central, in collaboration with several churches from the Kansas City District, has created space for 5th grade students to step away from the regular patterns of life to focus on what God might be saying. This is a great time for 5th grade students to grow closer to other students from Central and from across the Kansas City District.
3rd & 4th Grade Lock-in
This is a time for our 3rd and 4th grade students to gather with others Kansas City District churches for a late night and tons of fun. The location rotates through Kansas City District churches.
Preteen Mission Trip
5th Grade Retreat
Vacation Bible School
Kids experience God's Word in surprising and unforgettable ways! Each day, leaders reinforce one simple Bible truth—which makes it easy for kids to remember and apply to real life! Vacation bible School takes place each summer.
Summer Camps
Completed 1st-2nd Grade :: Miracle Hills Camp :: Bethany, MO

Completed 3rd-4th Grade :: Wheat State Camp :: Augusta, KS

Completed 5th-6th-7th Grade (Youth Camp) :: Wheat State Camp :: Augusta, KS
Milestones and Family Events
At Central Church of the Nazarene, we are moving away from working in isolated ministries towards working as one unit. Together, we want to disciple our children from birth on into adulthood. Milestones and Family Events reflect our vision for what we would like the journey for you and your child. We hope you are just as excited as we are about Central's Age Group Ministry plans!
Milestones
Baby Dedication/Infant Baptism

1st Grade Bible

5th Grade Retreat
Family Events
Dinner at the Castle

Date Knight at the Castle

Dinner at Pastor Julie's
To find out when these events are happening, check out our Events page.
Check-in & Check-out Process
Upon arriving at Central, you will go to either the Early Childhood Check-in Center (lower level) or the Elementary Check-in Center (upper level). At the check-in center, an attendant will be there to assist you. They will be asking for name, address, phone number, allergies your child might have, etc.
Your child will then be given a sticker name badge with his/her name on it. You will receive a Parent Tag with a code on it that matches the code on your child's name badge.
When picking up your child, show the Parent Tag to the attendant to receive your child. If you are needed during the service, you will be able to receive a text message.
Well Child
In order to ensure the safety and health of our children, if your child exhibits any of the following illnesses or symptoms, please do not expose him/her to other children:
Fever greater than 99 degrees must not be present 24 hours prior to service; Colored discharge from nose, eyes or ears, vomiting, diarrhea, Impetigo, Chicken Pox, Measles or Mumps, Conjunctivitis (Pink Eye), or unidentified rash.
If your child is being treated with antibiotics, he/she should be on it at least 48 hours prior to coming to their class. This is a precaution for the wellness of all children who attend Central.
Volunteers
Central has a great volunteer team that ministers to the kids on a weekly basis. All adult volunteers have participated in a series of training, passed a short quiz over the training, and completed and passed a nation-wide criminal background check. It is our desire and goal that your child be as safe as possible while they are in our care. Our volunteer team loves that they can provide ministry for your children and make a difference in their growing lives!